Events (Archives 2017)
-
Paris, France
Ministerial delegations from all over the world will meet for the first Preparatory Committee meeting of the Ministerial Process (PrepCom I) on 13 – 14 December 2018, at the UNESCO Headquarters in Paris. The meeting will be presided by the Ministry of Foreign Affairs of Brazil, with the support of the World Water Council. The main goal of the Preparatory Committee meetings is to develop and discuss the Ministerial Statement which will be presented at the 8th World Water Forum in Brasilia – Brazil, 18 – 23 March 2018. A Second PrepCom is foreseen to take place in February 2018 in Paris to...
It has been two years since the historic Paris Agreement was signed. On 12 December 2017, the President of the French Republic, Emmanuel Macron, the President of the World Bank Group, Jim Yong Kim, and the Secretary-General of the United Nations, António Guterres, will address the ecological emergency for our planet by calling together in Paris international leaders and committed citizens from around the world. The main focus of this event will be to determine how those working in public and private finance can innovate to support and accelerate our common efforts to fight climate change. The...
-
Hangzhou, China
United Cities and Local Governments (UCLG)
On the 22nd of November 2017, together with the Undersecretary for federal issues of the presidency of the Republic of Brazil, the World Water Council welcomed 120 Mayors and Governors in Brasilia, Brazil, to raise global awareness on the goals of the 8th World Water Forum and water management in towns.
-
Av. Ejército de Oriente N° 100, Unidad Cívica 5 de Mayo, Puebla
Asociacion Nacional de Empresas de Agua y Saneamiento de México (ANEAS)
ANEAS Annual Convention & Expo is the most important event of its kind in Latin America, a forum that brings together national and international experts, entrepreneurs, academics, legislators as well as stakeholders related to the hydric sector, particularly the drinking water and sanitation subsector.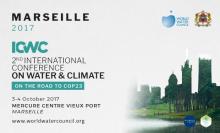 -
Marseille, France
World Water Council
Climate change impacts water resources first and foremost and water should be perceived as a connector offering solutions both to climate change adaptation and mitigation.  In recent years, the World Water Council has strived for recognition of the role of water within climate discussion. 
Following the success of the first International Conference on Water and Climate "Water Security for Climate Justice" held in Rabat in July 2016, the World Water Council, with the support of the CoP22 Chair as represented by the State Secretariat for Water of the Kingdom of Morocco, and with the...