Events (Archives 2016)
-
Cairo, Egypt
National Water Research Center - NWRC
National Water Research Center (NWRC) in collaboration with the Ministry of Water Resources and Irrigation (MWRI) in Egypt and Utah State University (USU) in USA is organizing an international conference titled "Research and Technology Development for Sustainable Water Resources Management". 
This international conference is organized to provide a forum for researchers, academicians, and practitioners engaged in research, applied water technology, and water resources planning and management to share knowledge, experience, good practices, and research results. 
Plenary sessions...
-
Budapest, Hungary
Government of Hungary - World Water Council
The Budapest Water Summit 2013, organised in cooperation with the World Water Council, was instrumental in developing a dedicated goal on water which today features in the 2030 Agenda for Sustainable Development.
Under the patronage of H.E. Mr. János ÁDER, President of Hungary and Member of the High Level Panel on Water convened by the UN Secretary General and the President of the World Bank, Hungary will be hosting a high-profile conference and expo: the Budapest Water Summit 2016.
The aim of the three-day event is to promote in a very concrete manner the implementation of the...
-
Tijuana, Baja California, México
Asociacion Nacional de Empresas de Agua y Saneamiento de México, A. C- ANEAS
ANEAS Annual Convention and Expo is one of the most important events in Latin America, where national and international experts, entrepreneurs, academics, policymakers, and other stakeholders related to the water and sanitation sector come together. In November, from 7th to 11th, Tijuana, Baja California will host this major event which have had 7,000 participants and 400 suppliers exhibiting their goods and services in the trade show. With a program based on lectures, panel discussions, courses, workshops, side events, business meetings and technical visits; companies and water utilities in...
-
Marrakech (Morocco)
United Nations Framework Convention on Climate Change - UNFCCC
Join the World Water Council and the global water community at COP22 to raise the voice for water in global climate discussions. The World Water Council  will be involved in a number of events in Marrakesh from 7 to 18 Nov. Most notably, the Council is co-facilitating the Global Climate Action Day for Water on 9 November – the first time a dedicated water event has been formally held within the COP meeting framework. Come visit the Council's stand and the #ClimateIsWater stand in the Green Zone: Booth N° C333 in Civil Society space in Green Zone.
8 November: #ClimateIsWater 

The Council...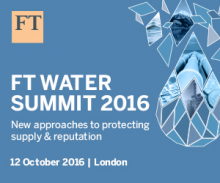 Millennium Mayfair, London, UK
Financial Times, World Water Council
The World Water Council believes that sustainable financing of multipurpose infrastructure and services is critical for long term water security. Through its long-running program on financing water the Council has identified the need for a nuanced set of financial approaches, products, services and functions that are required for global water security.
To focus more attention on these issues the World Water Council is joining the Financial Times as founding partner for the 2nd annual FT Water Summit which will take place on 12 October in London, UK, and will bring together corporate...