Events (Archives 2018)
-
Marseille, France
World Water Council
The General Assembly is the opportunity for all members of the World Water Council to influence the strategic orientation of the organization by voting on policies and programs. It is also the occasion for members to elect the representatives of the Board of Governors for a term of three years, approve the triennial budget, and adopt the work program and By-Laws.
A total of 35 Governors representing 5 colleges of members are elected during the General Assembly. During the 8th General Assembly, the members of the World Water Council will:
Adopt the work program of the Council for the...
-
Zaragoza, Spain
Organisation for Economic Co-operation and Development (OECD)
The OECD Water Governance Initiative is an international multi-stakeholder network of members from the public, private and non-for-profit sectors gathering regularly to share good practices in support of better governance in the water sector.
Objectives:
Provides a multi-stakeholder technical platform to share knowledge, experience and best practices on water governance across levels of government.

Advises governments in taking the needed steps for effective water reforms through peer-to-peer dialogue and stakeholder engagement across public, private and non-profit sectors.

Provid...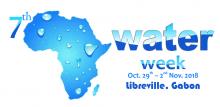 -
Salle Ouest, Stade de l'Amitié (Friendship Stadium), Libreville, Gabon
African Ministers Council on Water (AMCOW)
The Africa Water Week (aww) is convened by the African Ministers Council on Water (AMCOW) in conjunction with the African Union Commission and organized with other development partners. It represents a political commitment at the highest level with over 1000 participants from governments, regional institutions, international partners, the private sector, the scientific community, civil society, and the media from all over the world, and in particular Africa, meeting to discuss and collectively seek solutions to Africa's water resources, and sanitation challenges. It is now held biennially in...
-
London, United Kingdom
Institution of Civil Engineers (ICE), World Federation of Engineering Organisations (WFEO)
ICE and the World Federation of Engineering Organisations (WFEO) are bringing together the worldwide community to look at how we can trigger real change and deliver the outcomes specified by the UN Sustainable Development Goals.
The GEC offers 5 full days of multi-streamed content. 2,000-plus engineers will take part in a practical programme designed to produce answers that can improve the lives of millions around the world.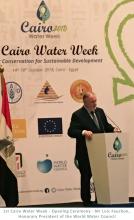 -
Cairo, Egypt
Ministry of Water Resources and Irrigation
The Cairo Water Week is considered as the biggest water-related event in Egypt and is planned to be organized annually by the Ministry of Water Resources and Irrigation in collaboration with national, regional and international partners. It aims to promote water awareness and foster innovative approaches to face the most pressing water- related challenges, keep updates on global movements to address water challenges and identify modern tools and techniques for managing water resources. The Week starts its first edition this year with the main theme "Water Conservation for Sustainable...