Marrakesh International Summit on Water Security: WWC calls for dignity and trust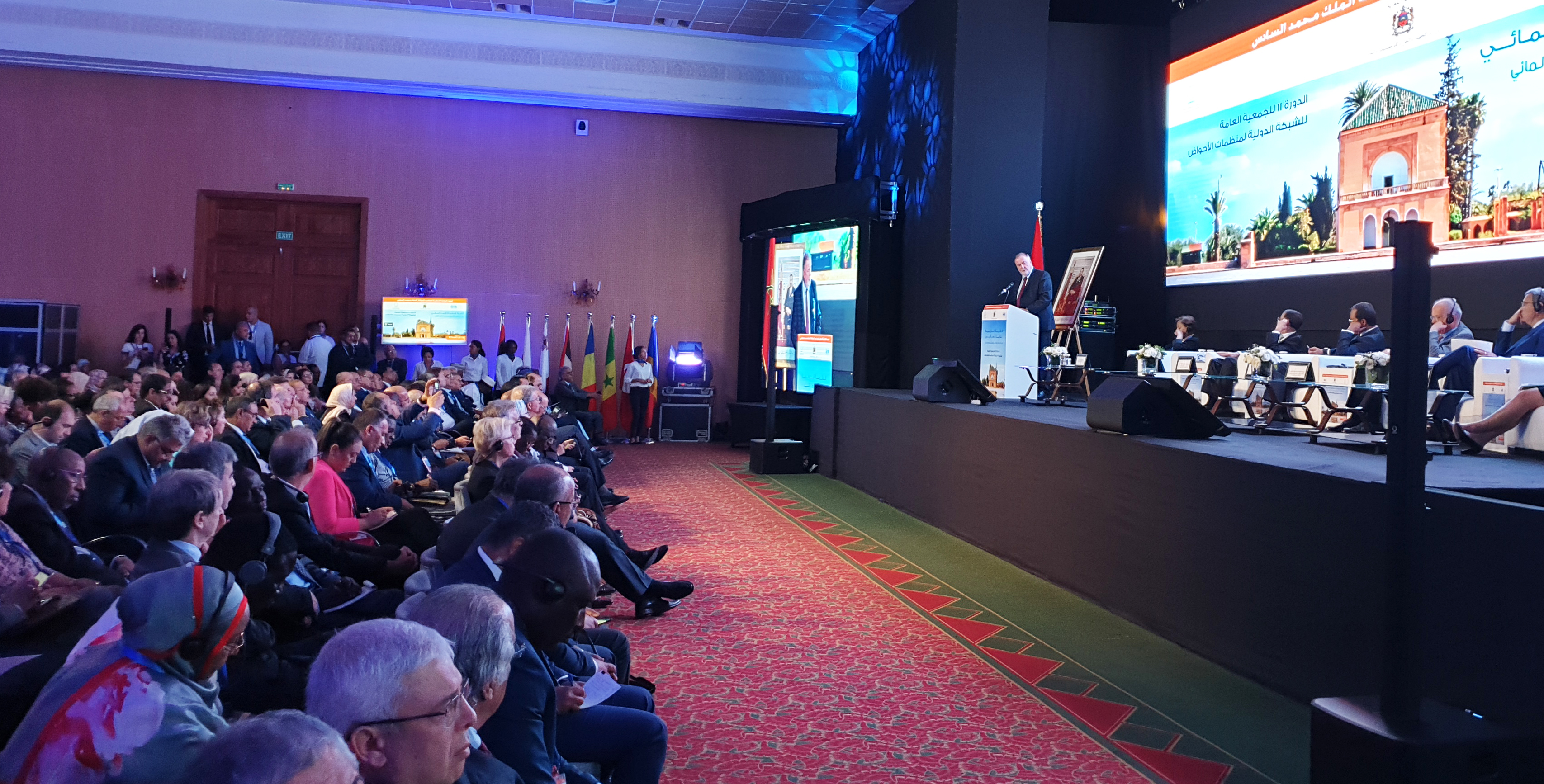 Marrakesh, Morocco, 1 October 2019 – "Very often, water suffers bad treatment. Why is this? All of you here know!" World Water Council President Loïc Fauchon said at the Opening Ceremony of the International Summit on Water Security, in the presence of 300 participants from 65 countries. 
"Because demography is growing and the world's population is more and more concentrated within cities, especially megacities with its trail of poverty and frightening pollution," he continued. 
He then urged for dignity and trust: "The right to water is the cornerstone for securing access to water for all and provides the strongest connection to global water security."
Read the full speech (in French)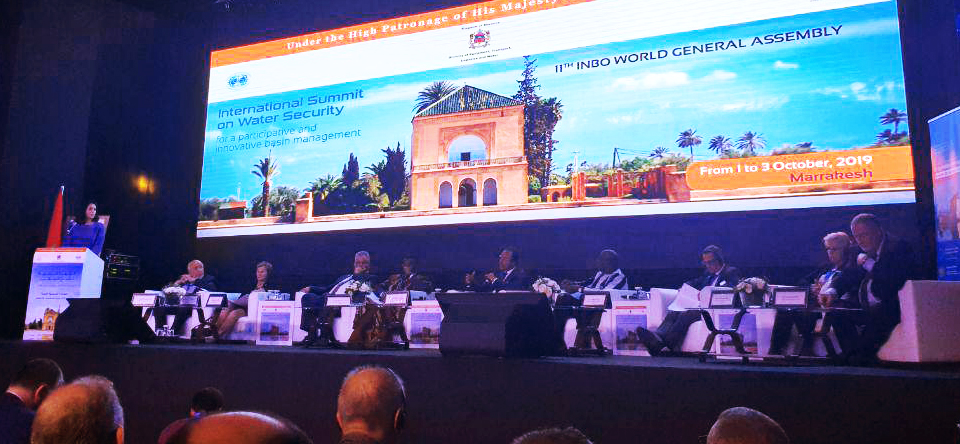 Loïc Fauchon answered questions from Aziza Akhmouch, Head of the OECD Program on Water Governance, during the High-level Ministerial Session on Water Security. 
Aziza Akhmouch:  According to you, what are the priority improvements to tackle droughts and floods and ensure water security for all? 
Loïc Fauchon: It is crucial that funding agencies are made aware of the importance of the maintenance and that long-term financing mechanisms are implemented.  
There are also exceptional circumstances such as water-related crises or disasters. I myself am part of a panel of about ten people, which was created by the United Nations Secretary-General, to make recommendations on water-related disasters. We can identify three situations: prevention, evaluation, and response. 
In recent years, we have made considerable progress in risk prevention. I would like to give an example that took place not far from here. Some twenty years ago, the Ourika Valley suffered a terrible disaster when a hundred children and young people were washed away by an Ourika flash flood. At the time, there was no warning system. Today, warning loudspeakers have been installed for the first time in the same place where the flooding occurred. Whether because of lack of water or excess thereof, we need to simultaneously push organizations, funding agencies, and states into setting up prevention systems, which is already the case in Asia but not so much in Africa. 
Evaluation and response are coordination issues. These are crucial topics. When disasters –especially floods - occur, hundreds of emergency task forces are sent on the field without any inspection, situation assessment, or coordination. The High-level Experts and Leaders Panel [on Water and Disasters], under the authority of the United Nation and UN-Water, formulates recommendations so that when disasters strike, authorities at both regional and national levels, as well as NGOs, follow specific rules. 
Aziza Akhmouch: Beyond infrastructure, what modern technologies are necessary to speed up the process of securing water?
Loïc Fauchon: By using the word "technology", engineers tend to systematically propose limited technical solutions. Although today, to speed-up the water security process, we need to rely on the three pillars which are included in the 'house of water': 
1.    Shared knowledge - instead of transferred knowledge. Today, there is as much to gain in learning from the South as there is in delivering from the North.
2.    Governance - a topic that has seen much progress. We could summarize it in one sentence: "bring the subject of water closer to people, transfer the responsibility downwards (deconcentrated first, decentralized next) so as to provide local authorities with the capacity to levy taxes to finance water on their own.
3.    And finally, financing. We talked about this earlier. We still have enormous progress to accomplish on financing water. Tremendous progress indeed, because we still wrongly believe that money for water is lacking. Banks have shown that they possess plenty of capital and the capacity to finance water. On another hand, there are so many regions, countries, communities, men and women, that lack the capacity to prepare adequate projects. We should focus our help on them. 
On the sidelines of the Summit, Loïc Fauchon met political representatives to explore avenues of collaboration to achieve water security, including: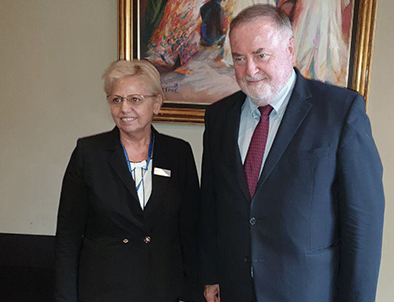 Adriana Petcu, Secretary of State of Rumania, Tuesday 1 October    Papa Koly Kourouma, Minister of Hydraulics and Sanitation of Guinea, Wednesday 2 October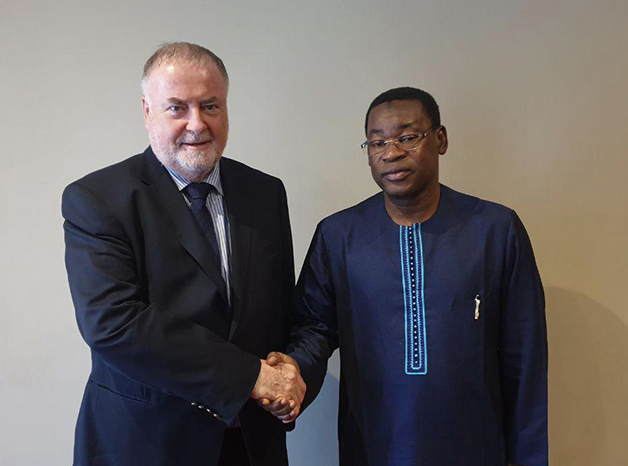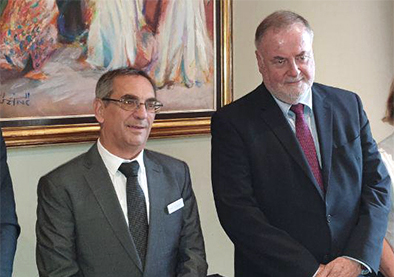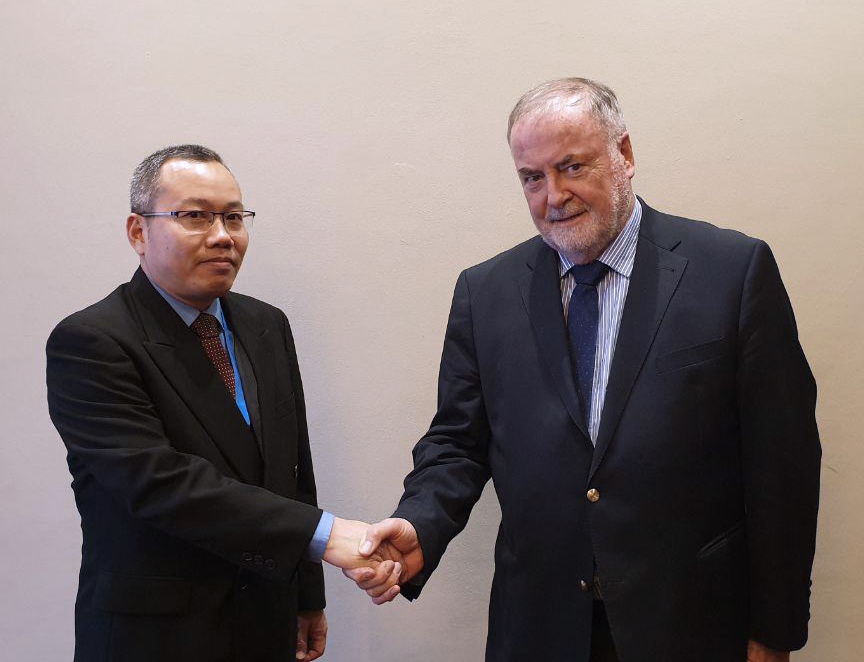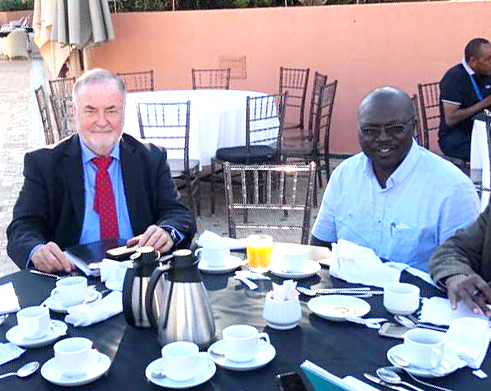 Papa Koly Kourouma, Minister of Hydraulics and Sanitation of Guinea, Wednesday 2 October
Joseph Mizzi, Minister of Energy and Water Management of Malta, Tuesday 1 October    
An Pich Hatda, CEO of the Mekong River Commission (MRC), Wednesday 2 October
Simon Chelugui, Minister of Hydraulics and Sanitation of Kenya, Wednesday 2 October