World Water Council presents Water Action Day outcomes at CoP22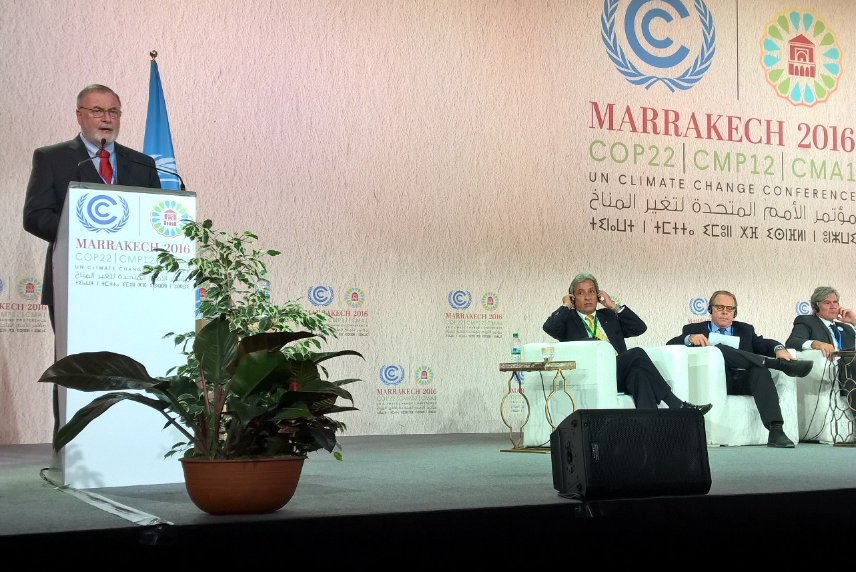 The World Water Council, through its Honorary President Loïc Fauchon, was pleased to be able to report on the outcomes of the first Action Day for Water in the history of the CoPs at the High-level Event on Accelerating Climate Action held on the eve of the closing ceremony of CoP22. The Global Climate Action Day for Water, held on 9 November 2016, was co-facilitated by the World Water Council, which was represented on the occasion by Vice-President Dogan Altinbilek.
The event was opened by UN Secretary General Ban Ki-moon, the President of the Marshall Islands, Hilda Heine, and the High Commissioner for CoP22, Abdeladim Lhafi, and was moderated by Ms. Hindou Oumarou, Coordinator of the Association for Indigenous Women and Peoples of Chad. 
Under the initiative of the two Climate Champions, Minister Hakima El Haite of Morocco and Ambassador Laurence Tubiana of France, the event emphasized water as one of eight priority areas for action that were highlighted throughout the two weeks of CoP22, demonstrating progress made since last year and looking forward towards new initiatives.
WWC Honorary President Loic Fauchon highlighted in his presentation that "this day is a memorable day for water. For the first time in the history of the CoP, water has been at the heart of the debate, especially during Water Action Day [on 9 November.]" 
It was also the occasion for the Climate Action Champions from Morocco and France to launch the Marrakesh Partnership for Global Climate Action and a one-million-dollar Moroccan Prize supported by the UN to recognize Climate Action. Both emphasize the role of non-state actors in the implementation of the Paris Agreement and strive to support further and faster action to address the climate crisis.
The World Water Council looks forward to continuing to work with the Presidencies of CoP22 and CoP23 in the year to come to continue momentum for water issues within the climate arena.