World Water Council addresses Indian Water Leaders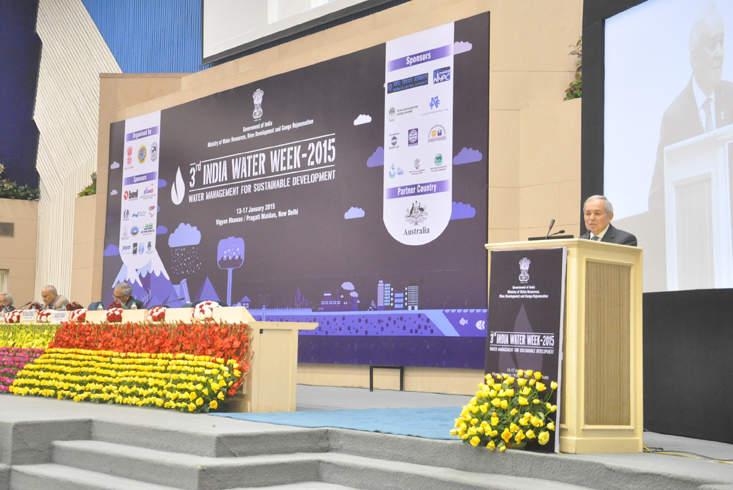 New Delhi, 15 January 2015 - In his keynote address during the opening of the 3rd India Water Week held New Delhi, World Water Council Vice-President Dogan Altinbilek highlighted some of the key initiatives implemented under the Council's Pact for Water Security. He invited the delegates to attend the 7th World Water Forum in Korea next April and made a strong plea for increased involvement of government and private sector representatives of India towards global water security and sustainability. In his private discussion with H.E. Uma Bharti, Minister for Water Resources, River Development and Ganga Rejuvenation, Prof. Altinbilek congratulated her determination to accomplish Ganga rejuvenation as a major project that will impact on the quality of life of the people of India.
India Water Week marked the beginning of the World Water Council's agenda in New Delhi and in the State of Rajasthan, which was organized by the 
Jal Bhagirathi Foundation
, a WWC member and active representative of the Council at the International Steering Committee for the 7th World Water Forum.  
The program included meetings with government officials and water stakeholders, speaking at the Confederation of Indian Industry Partnership Summit 2015, and visiting water projects in rural areas. Vice-President Altinbilek also met with H.E. Prakash Javadekar Minister of Environment, Forests and Climate Change, and H.E. Suresh Prabhu, current Minister of Railways and G-20 Sherpa, a national leader on water policy and a strong defender of comprehensive integrated water management. 
This visit was also the occasion to glean a better understanding of the challenges that face the sub-continent and to gather members and partners of the World Water Council, including the DHAN Foundation, the Association for Rural Area Social Modification, Improvement and Nestling, Veolia Water India. He thanked the Central Board for Irrigation and Power for actively disseminating the Council's projects and practices among technical experts across India.  
In support of the strong political will and recent initiatives of Prime Minister Narendra Modi to tackle water challenges, the World Water Council applauds the efforts of the government of India to connect all sectors and move the water agenda forward at this crucial juncture towards global water security. These events demonstrate the long-term approach of the Government of India towards integrated and sustainable development. They will provide excellent opportunities to exchange on the challenges of water management, gather stakeholders' commitments towards water security, and accelerate positive change and sustainable development.