Singapore Water Week: Council promotes sustainable urban water management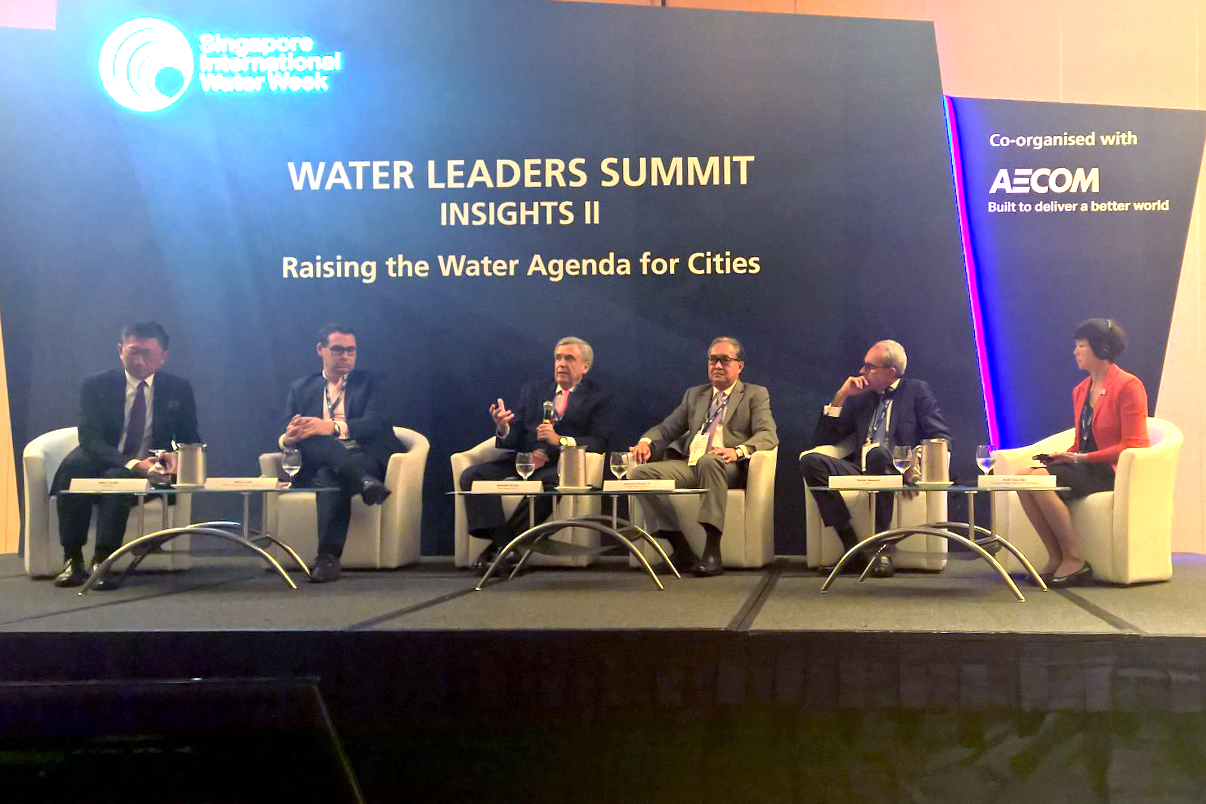 On 12 July, during the Water Leaders Summit, President Braga participated in a session on "Raising the Water Agenda for Cities". Stating that "water supply and sanitation is also key for social inclusiveness," President Braga reminded participants that sustainable urban management includes an economic, environmental but also a social dimension.  Offering an equal service to every dweller, with the same water quality and availability, regardless of their background, is a prerequisite for urban social well-being. The World Water Council looks forward to further collaborate with its Asian Pacific partners to raise water higher on the urban agenda.
On the same day, the World Water Council and Asia Pacific Water Forum respectively celebrated their 20th and 10th anniversaries. To this occasion, many distinguished guests including Prof. Tommy Koh, Ambassador-at-Large from the Singapore Ministry of Foreign Affairs, Mr. Chua Soon Guan, Deputy Chief Executive from PUB, and other high level representatives of the international water community, joined President Benedito Braga and Ravi Narayanan, Chair of the Asia Pacific Water Forum, to commemorate the two organizations' engagement and partnership for the inclusion of the voice of Asia in the World Water Forum. The celebration was followed by a fruitful and interactive session on integrated Urban Water Management and the links to related planning sectors. 
On 11 July, President Braga spoke at the ASEAN Plus Three Water Ministers Forum themed "Enhancing Sustainability and Building Climate Resilience in Water Supply and Sanitation". He emphasized that climate change needs to be considered along with sustainable and innovative financing for constructing and maintaining existing infrastructure in order to address water security. President Braga further added that "in order to reduce these impacts equally, we need to help building capacity and resilience for those areas which are the most exposed and less capacitated".
In the coming days, President Braga will be participating in the Latin America Business Forum to remind the audience that water should be considered as an economic opportunity rather than a risk. The Development Bank of Latin America (CAF) has evaluated that investing 0,3% of national GDP per year in water infrastructure would be enough to achieve a full-coverage of water supply and sanitation for all.