8th World Water Forum - Announcement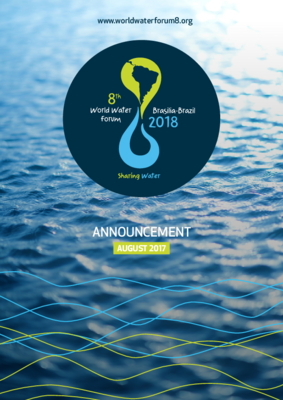 Sharing Water – overarching theme of the 8th World Water Forum
The choice of the overarching theme represents the essence and the spirit that
must guide the 8th World Water Forum, its preparatory events and, mostly, its
benefits and outcomes.
In its core, this general theme points towards the ideas of sharing, balancing
and cooperating. In this edition of the World Water Forum, "Sharing Water" is
suggested within the technical, political and institutional context to share ideas
among the civil society, share solutions and good practices, share benefits for
water use and, more generally and widely, share actions between countries.
As this concerns water, an essential resource to mankind, to balance ecosystems
in the planet and to develop nations, the thematic framework proposed for the 8th
Forum also takes into consideration the global relevance of water and its relation
with national, regional and local governments.
The sharing of experiences seeks to avoid continental or regional decisions and
primarily aims at the exchange of experiences at a global level.
The 8th edition of the World Water Forum is a great opportunity to celebrate the
cooperation and the exchange of experiences and good practices for a conscious
and rational water use.