2003 – 3th World Water Forum, Kyoto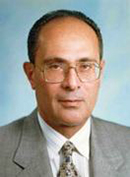 Mahmoud ABU-ZEID 
Minister of Water Resources and Irrigation of Egypt
Jerson KELMAN 
Director President of Agencia Nacional de Aguas (ANA) of Brazil, and
They have been honoured for their significant water-related achievements and their contribution to the improvement of water resources management.
Achievements of Dr. Jerson KELMAN:
Dr. Jerson KELMAN earned his PhD on Water Resources at Colorado State University and an engineering degree from the Federal University of Rio de Janeiro.
He carried out, as a university professor, much scientific research and developed many mathematical models in hydrology and water planning, and was a member of the Electric Energy Research Centre.
He led the process of putting together the legal and institutional framework for an integrated water resources management system.
The President of Brazil appointed Dr. KELMAN to carry on the task of conceiving the National Water Agency and to be its first President, starting from January 2001.
Dr. KELMAN conceived the River Basin Restoration Program to develop policies and institutional arrangements in the fields of irrigation, hydro-power, water and sanitation.
He is a member of the steering committee of PROAGUA, a program to face the challenge of mitigating droughts in cities of the Brazilian Northeast. 
Achievements OF Dr. Mahmoud ABU-ZEID:
Dr. Mahmoud ABU-ZEID is a world water leader.
He earned prestigious engineering degrees at Cairo University and the University of California.He has assumed various progressive responsibilities from lecturer at university to research engineer, Director and Director General and Chairman of the National Water Research Centre, and since 1997, he had served at the highest position as the Minister of Public Works and Water Resources and as the Minister of Water Resources and Irrigation of Egypt.
He has authored hundreds of research papers and articles published in prestigious journals on water resources, irrigation, drainage, groundwater and environment.
He contributed to the development of practical aspects of trans-boundary water and conflict prevention by his pioneering research work on the Nile River Basin and Middle-East water.
He served in many world water institutions: UNESCO-IHP, ICID, IWRA and finally was one of the three Founding Members of the World Water Council (WWC).
The outstanding contributions of Dr. ABU-ZEID in water issues include not only his country Egypt but also Middle-East and Africa.