2006 – 4th World Water Forum, Mexico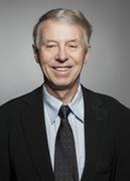 Dr. Torkil JONCH-CLAUSEN
Currently Development Director and Deputy CEO of DHI Water and Environment, in Denmark, Dr. Torkil Jønch-Clausen has been honoured for his outstanding contributions to advancing Integrated Water Resources Management (IWRM) at the global scale.
Achievements of Dr. Torkil JONCH-CLAUSEN:
Dr. Torkil Jønch-Clausen was one of the founders of the Global Water Partnership, for which he is now Senior Adviser. He is also a UN professional for UNEP, Professor at the Technical University of Denmark, Chair of the Danish Water Forum and Secretary General of the International Water Resources Association (IWRA).
Dr. Torkil Jønch-Clausen earned his PhD in Civil Engineering at Colorado State University in 1970. He has more than 35 years of experience in water resources planning and management as researcher, consultant, donor representative of international organizations and has worked in over 40 countries world-wide.
Dr. Torkil Jønch-Clausen has contributed to the development and promotion of IWRM worldwide and greatly influenced the international agenda. He participated in the establishment of the operational IWRM concept encompassing the three pillars: Enabling environment, institutional roles and management instruments. On the ground, he has been particularly active advising on IWRM programmes in the Mekong river basin, Burkina Faso, Nicaragua and Vietnam, just to name a few.
In Kyoto, Dr. Torkil Jønch-Clausen was the organiser and coordinator of the IWRM theme, the largest theme with over 40 sessions, and in Mexico he was the beacon for IWRM, one of the five main themes of the Forum.
He received this award during a special ceremony, at the opening of the 4th World Water Forum in Mexico City, on March 16.
Outcomes of the prize
Prof. Torkil Jønch Clausen donated the prize money for the 2006 "King Hassan II Great World Water Prize" to the creation of the DHI Women's Water Fund. This initiative supports women in developing countries in advancing their career opportunities in the development and management of water resources.