2015 – 7th World Water Forum, Daegu & Gyeongbuk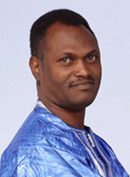 Maman Abdou, Entrepreneur social Tech Innov (Niger)
Mr Abdou Maman, Director Tech Innov Niger, was rewarded for its Tech Innov Niger solution, an integrated and innovative solution for remote operation of irrigation.
The Tech Innov Niger solution for remote irrigation is a technology process that lets farmers manage their farm irrigation system remotely, using their mobile phone and solar panels. This solution enables farmers to save time and energy, expand the area under irrigation, increase their production and income, and streamline the management of irrigation water. This remote irrigation system is composed of a small solar station, a solar pump, a water distribution network, and a simple mobile telephone.
By providing a concrete solution for issues in the food, energy and water nexus, remote irrigation serves to reduce poverty in rural populations. Social entrepreneur Abdou Maman favours taking a holistic approach to these issues. He enables implementation of his solutions while also supporting communities in accessing technology and finance via crowdfunding, participatory online funding, micro-credit, etc.
Nigerien social entrepreneur Abdou Maman wins the King Hassan II Great World Water Prize (US$ 100,000)