Minister of Water of India welcomes World Water Council Governors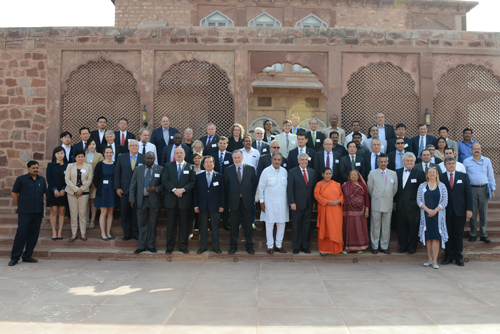 Jodhpur, India 18 March 2016 – The World Water Council Board of Governors was welcomed today for their first meeting of the year by the Minister for Water Resources, River Development and Ganga Rejuvenation, Uma Bharti and the Maharaja of Rajasthan, HH Gajsingh Jodhpur. 
After welcoming the participants to India, the Minister thanked Maharajah Gajsingh as well as the Jal Bhagirathi Foundation for their efforts in providing safe water to Rajasthan. "The progress of any country relies on the management of its water resources." Minister Bharti added that she looked forward to greater collaboration with the World Water Council to improve water management in the country.
For the first time, the World Water Council Board of Governors meeting has been hosted by an Indian member, the Jal Bhagirathi Foundation, serving its first mandate as a Board member and also represented on the Bureau. "The role played by India within the global community is a great asset to our common cause," said World Water Council President Benedito Braga.
Commenting on the importance of water security in India, World Water Council Governor Prithvi Raj Singh said "88% of India's population lives in basins with either water scarcity or food production deficit dependent on water availability. Hence, bridging the gap between demand and supply is a must." 
"We all share the common endeavor for water security, and our message is now widely adopted by the international community," President Braga continued. "The strategy we have adopted for the coming years builds on the contributions of our members in key areas where water makes a difference for global prosperity." Over 50 participants took part in lively discussions focusing on the implementation of the World Water Council's newly adopted
2016-2018 strategy
and the related work plan.