International Water and Energy Conference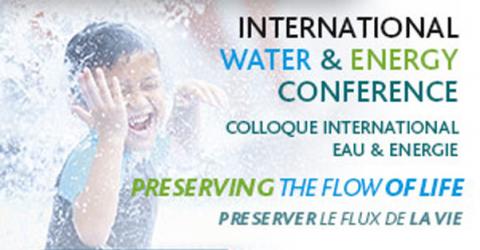 -
Centre de Congrès - Cité Internationale, Lyon, France
The Lyon Conference aims to be a transition from the 6th World Water Forum in Marseille (France) in 2012 to the next one, the seventh edition of the World Water Forum, in Daegu (South Korea) in 2015.  It will bridge with the COP 21 meeting that will take place in Paris (France) in December 2015.  The programme will present a follow-up to Marseille, from the solutions put forward during the event to their materialisation; and the progresses on commitments for water and energy-related issues and the impacts of the multiple uses of water on food and health. In Lyon, all themes should be addressed from the perspective of innovation, the strategic cross-cutting issue chosen for the 7th World Water Forum in Daegu.  The Conference will gather together water and energy related stakeholders, at international level, including government and public organisations, local and regional authorities, companies, NGOs, users association, scientists and researchers.  This Conference will thereby be an opportunity to ensure that all stakeholders are involved. It supports the preparatory process of the 7th World Water Forum and intends to showcase the international involvement of local authorities on these strategic issues, including that of the Greater Lyon Authority and the Rhone River local authority. The event is therefore an opportunity to:
reach out to international actors and to make decisions upon strategic issues with respect to regulatory policy frameworks;
shed light on strategic local projects and know-how, such as the Greater Lyon Authority region, Rhone river – Mediterranean and Corsican Water Authority and many others;
make the case for territorial development (competitiveness and attractiveness) and local economic development, which are at a crossroads for any major prospects for growth; and
improve scientific recognition, dissemination and uses of communications on projects.
Click here to read the flyer of the event.
 
---
Colloque international Eau et Energie
Ce colloque se veut être la transition et le passage entre la 6ème édition du Forum Mondial de l'Eau en 2012 et la 7ème édition qui aura lieu à Daegu, en Corée du Sud, en 2015 et fera le lien avec la Conférence des Parties sur le climat qui aura lieu en décembre 2015 à Paris (COP 21). Il s'inscrit dans le processus de préparation du 7ème Forum mondial de l'Eau et entend montrer l'implication des régions et des autorités locales sur ces thèmes stratégiques. Le programme présentera un suivi du 6ème Forum mondial de l'Eau de Marseille, des solutions mises en avant et de leur concrétisation, des progrès sur les engagements concernant les questions liées à l'eau et l'énergie, et des impacts des multiples usages de l'eau sur l'alimentation et la santé. A Lyon , l'ensemble des sujets devront être abordés dans une perspective d'innovation qui est la thématique transversale stratégique choisie pour le 7ème Forum mondial de l'eau à Daegu. Cette conférence de niveau international, réunira les parties prenantes du domaine de l'eau et de l'énergie et notamment  des gouvernements, des organisations publiques, des autorités locales et régionales, des entreprises, des ONG, des associations de consommateurs, des scientifiques et des chercheurs. Cette conférence sera donc l'opportunité  d'assurer l'implication de toutes les parties prenantes. La conférence soutient le processus préparatoire du 7ème Forum mondial de l'eau et souligne la participation internationale des autorités locales sur ces questions stratégiques, y compris celle du Grand Lyon et de l'autorité locale du Rhône. Les objectifs du colloque :
mobiliser les acteurs internationaux et les décideurs sur ces enjeux stratégiques
partager les réussites et les bonnes pratiques, échanger sur les solutions et les innovations techniques, technologiques et de gouvernance ainsi que sur les écueils à éviter.
évoquer l'attractivité et le développement économique à la croisée de marchés majeurs aux fortes perspectives de croissance
améliorer la reconnaissance et la valorisation scientifique des communications et des projets
faire le point sur les politiques et les stratégies développées pour faire avancer conjointement les thèmes de l'eau et de l'énergie
échanger sur les solutions et innovations des techniques et de la gouvernance
Lire le prospectus de l'événement.
Organizer
Région Rhône Alpes, Grand Lyon, Agence de l'eau Rhône Méditerranée Corse, Electricité de France, World Water Council, French Water Partnership, Société Hydrotechnique de France, GRAIE