Building the foundations for the 7th World Water Forum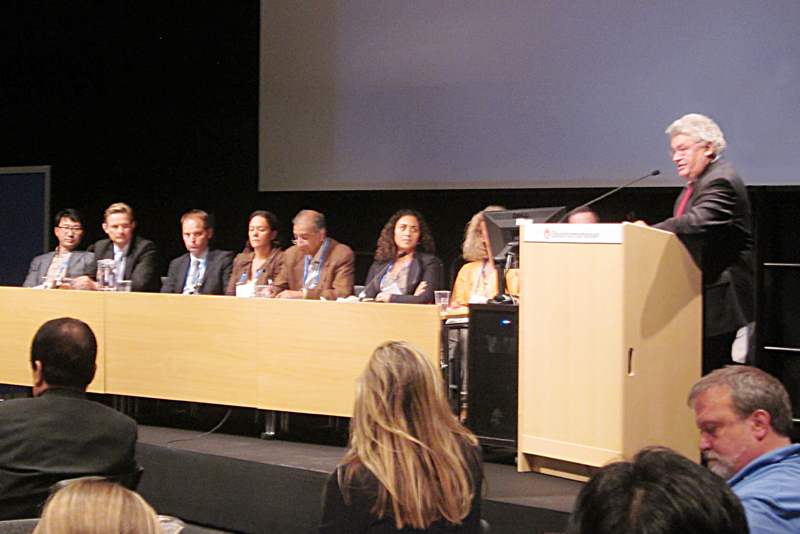 1 September 2013, Stockholm, Sweden - "The 7th World Water Forum must help to strive towards water security for human needs, for economic development and ecologic sustainability, while generating the political will to make those ambitions a reality," Council President Benedito Braga said on Sunday at the 7th World Water Forum seminar that took place in Stockholm, Sweden on the 1st day of World Water Week. Together with the co-chair of the 7th World Water Forum International Steering Committee and Council Governor Mr. Soon-tak Lee, President Braga welcomed over 100 participants to the event.                             
Building on the solutions that were formulated during the 6th World Water Forum and the outcomes of the Kick-off Meeting 13-15 May 2013, the seminar presented the proposed architecture for the preparation of the 7th World Water Forum. It then gathered input from a wide range of stakeholders through facilitated discussion, in order to set solid foundations for further development of the 7th World Water Forum processes. Panels and discussions evolved around the upcoming Forum's Thematic Framework - which will serve as backbone to the construction of the Forum's preparatory process – taking into account major topics such as the implementation of the Solutions from the 6th World Water Forum and the linkages to be made with the post-2015 Sustainable Development Goal process.
The event was co-organized by the World Water Council, the Ministry of Land, Infrastructure and Transport- Republic of Korea (MoLIT),  the Korean Ministry of Foreign Affairs, the City of Daegu and the Province of Gyeongsangbuk-do. For more information on the 7th World Water Forum:
worldwaterforum7.org