7th World Water Forum Stakeholders set the pace in Gyeongju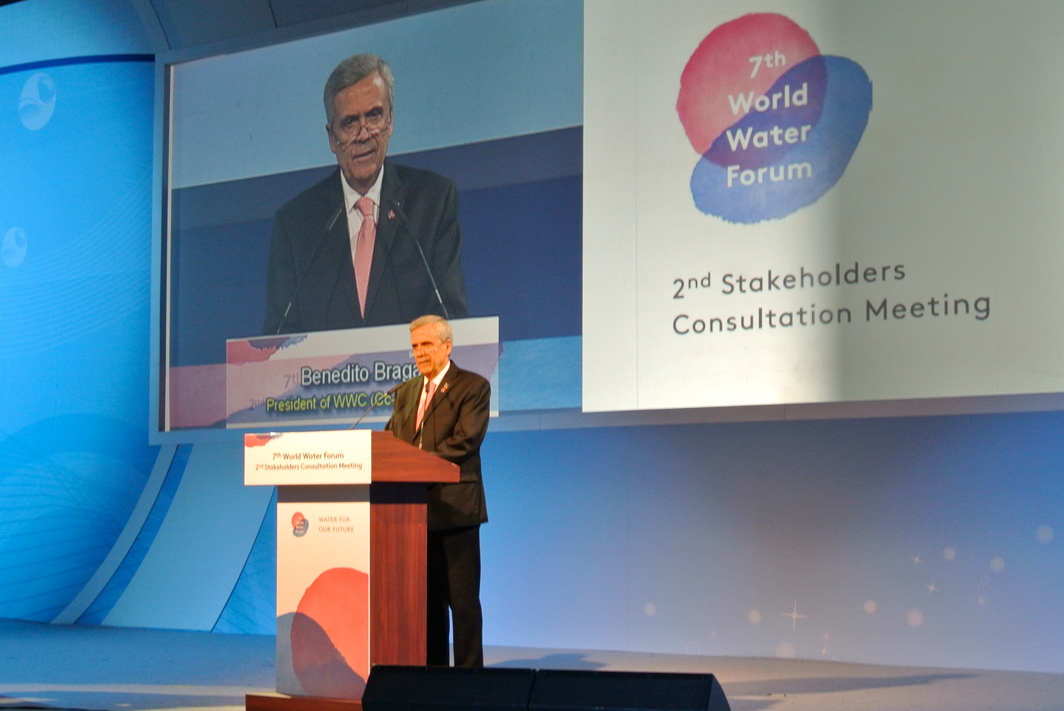 Gyeongju, Republic of Korea, 27 February - More than 700 stakeholders from all around the world are gathering today at the 2nd Stakeholder Consultation Meeting of the 7th World Water Forum that is being held in the city of Gyeongju, Republic of Korea. "The cause of water must be defended as our future relies on our capacity to innovate and to use appropriate technology to face the challenges of sustainable water resources development and management. This task is a very complex one, but I know that your constant efforts and common willingness will be the basis of our success," World Water Council President Ben Braga said in his speech at the Opening Ceremony this morning. Also opening the event were distinguished guests Mr. Jung-moo Lee, Chair of the National Committee for the 7th World Water Forum, Mr. Soontak Lee, Co-chair of the Forum International Steering Committee, Mr. Kwan-yong Kim, Governor of Gyeongbuk Province, Ms. Afailal, Minister of Special affairs for Water resources of Morocco, Mr. Baranyai Gabor, Deputy State Secretary of Hungary for EU Sectoral Policies, Mr. Gye Woon Choi, President of K-Water, and Mr. Seung-hwan Seo, Minister of Land, Infrastructure and Transport of the Republic of Korea.   During interactive break-out sessions that will last two days, the international water community will delve deeper into the Thematic Framework of the Forum, so as to help develop implementation roadmaps that will lead to a Global Action Agenda. Discussions on the Regional and Science and Technology processes will also enable further development of their roadmaps in the year running up to the Forum. Youth representative will be asked to report in plenary, infusing the meeting with their fresh enthusiasm and ideas for a Youth Forum. Moreover, time will be dedicated to encouraging proposals for the Citizen's Forum participants.
The meeting is one of the most important ones in the 2-year preparatory process of the world's largest event on water. Nearly 500 participants gathered at the Kick-off meeting in May 2013, following which the Forum's thematic framework was developed. The World Water Forum is organized every three years by the World Water Council in collaboration with the authorities of the host country and aims to set water firmly on the international agenda. The 7th edition of the Forum will take place in Daegu & Gyeongbuk, Republic of Korea, from 12 to 17 April 2015.