Countdown to 7th World Water Forum starts ticking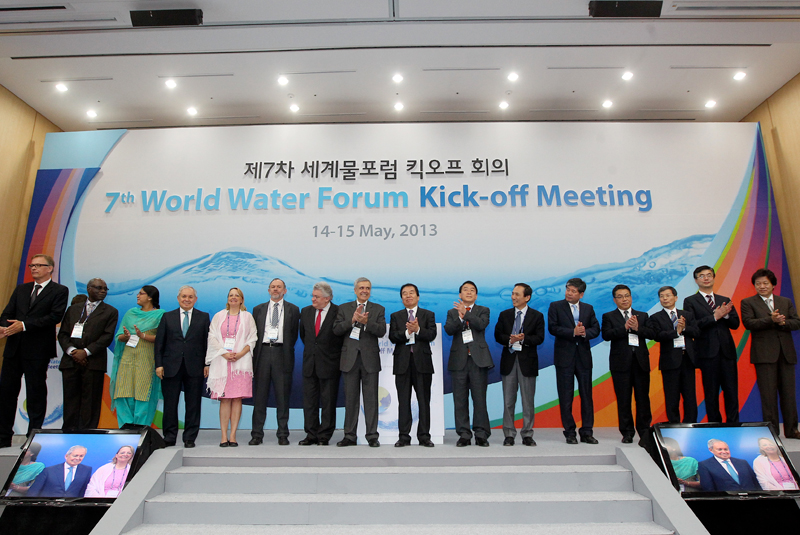 Daegu-Gyeongbuk, Republic of Korea, 14 May 2013 - "The 7th World Water Forum will bridge the solutions of the last Forum to their implementation and will have high in the agenda the issue of Science and Technology to stop the water suffering" World Water Council President Ben Braga said yesterday morning at the 7th World Water Forum Kick-off Meeting. Also opening this two-day event were distinguished guests Mr. Seoung-hwan Suh, Minister of Land, Infrastructure and Transport of the Republic of Korea, Mr. Bum-il Kim, Mayor of Daegu, Mr. Jung-moo Lee, Chair of National Committee for the 7th World Water Forum and Mr. Kwan-yong Kim, Governor of Gyeongbuk Province.
The evening before, the Welcome ceremony took place in Seoul at Hyatt Hotel and was opened by Mr. Hongwon Chung, Prime Minister of the Republic of Korea. Also attending this welcome ceremony were Mr. Yong Jiao, Chinese Vice-Minister of Water Resources and representative of the Mayor of Marseille, Martine Vassal.
The official launch of the 7th edition of the world's largest event on water marks the beginning of a 2-year preparatory process which will lead all the way up to the Forum week in April 2015. Nearly 500 representatives of the world's water community are attending the event. During interactive break-out sessions they are working together on drawing out the next Forum's guiding principles and preparing the ground for the four working processes – thematic, regional, political and Science and Technology. "Designing the processes and their expected outcomes is a great challenge and this is why it requires multiple stakeholder knowledge and experience," says newly appointed WWC Executive Director Henk Sterk. The workshops will be facilitated by representatives' from major international organizations involved in the cause for water, such as UNESCO, UN Habitat, OECD, Green Cross international and WWF-US.
The World Water Forum is the largest water-related event in the world, aimed at putting water firmly on the international agenda. It is organized every three years by the World Water Council in collaboration with the authorities of the host country. Organized in order to shape the Forum's framework, the Kick-off is an important step in the Forum working process.