2nd International Conference on "Water, Megacities and Global Change" (EauMega 2020)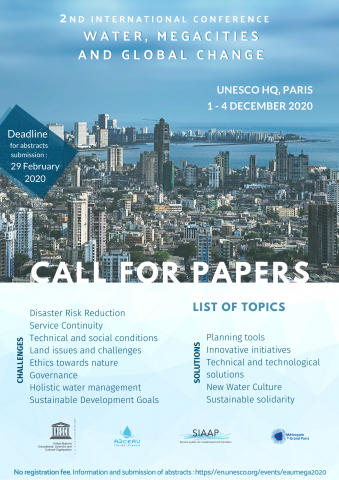 -
Paris, France
UNESCO's Division of Water Sciences, ARCEAU-IdF, the Greater Paris Sanitation Authority (SIAAP) and the Greater Paris Metropolis are organizing the 2nd International Conference on "Water, Megacities and Global Change" (EauMega 2020), on 1-4 December 2020, at UNESCO's Headquarters in Paris, France.
EauMega 2020 follows the first edition "EauMega 2015" hosted in December 2015 in Paris during COP 21, to draw attention to the significant challenges megacities are facing and to propose the creation of a global alliance to focus on climate change and water security: the Megacities Alliance for Water and Climate (MAWAC).
Five years later, the 2nd International Conference will bring together scientists, urban service managers, political representatives, and civil society to exchange for 4 days on the management of water in large urban centers of around 10 million inhabitants, and to officially establish the MAWAC.
The Conference will be structured around several thematic panels, addressing key challenges topics such as disaster risk reduction, service continuity, holistic water management or Sustainable Development Goals, while focusing on solutions that can be implemented to support the management of water in megacities like innovative governance, technical, institutional or social initiatives. The conference agenda will be determined after the selection of relevant papers to address these challenges and solutions.
The Call for papers is still opened and accessible here. To get the opportunity to present your paper in an International Conference in UNESCO premises, you are invited to submit your abstract (10-15 lines) before Saturday 29 February 2020 23:59 (CET) on this platform. Please note that you will first have to create an account.
KEY DATES:
29 February 2020 : Deadline for Submission of Abstracts
30 April 2020: Announcement of the accepted Abstracts
31 July 2020 : Deadline for Submission of Extended Written Communication
August and September 2020 : Reviewing by the Programme Committee 
30 September 2020 : Finalized Communication received
Visit the EauMega 2020 website for detailed information on Call for papers, programme and sponsorship opportunities.
Submission of abstracts: https://eaumega2020.sciencesconf.org/
Organizer
United Nations Educational Scientific and Cultural Organisation - UNESCO